Fairbanks, Alaska Links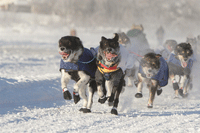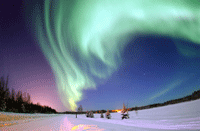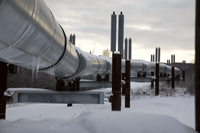 The City of Fairbanks is known as the "Golden Heart City," and if you have the good fortune to visit or live here, you will soon discover why we have earned that name. The people of Fairbanks are known for their generosity of spirit, hospitality, and friendliness.
Our city is vibrant with business and trade, outdoor and sports activities, and a dynamic arts community.
We enjoy the most beautiful extremes of nature, with summer days filled with endless sunshine, and wintry nights aglow with the Northern Lights. We are proud to call the City of Fairbanksour home, and invite you to enjoy all that Fairbanks has to offer!
Fairbanksis the largest city in the Interior region of Alaska, and second largest in the state. It is the principal city of the 'Fairbanks, Alaska Metropolitan Statistical Area' which encompasses all of Fairbanks North Star Borough and is the northernmost Metropolitan Statistical Area in the United States. The Northern lights in Fairbanks are a beautiful night time site!
The Golden Heart City is known for extreme climates and warm people. From a modern business economy to its unique, recreational activities, Fairbanksis a great place for home and business.
---
Fairbanks Among 100 Fastest-Growing Cities (Fairbanks News-Miner 4/6/08)
U.S. Census data released Thursday (4/3/08) show that the Fairbanks metropolitan statistical area's growth rate ranks 30th in the nation. Between July 1, 2006, and July 1, 2007, population in the Fairbanks area grew 2.8 percent. It saw an increase of 2,681 residents to total 97,484.
---
Welcome to Fairbanks Alaska - The Golden Heart of Alaska
Fairbanks may be brimming with life and festivals but it still holds true to "frontier" feel is exudes. Fairbanks is located in North Star Borough and is the gateway to Alaska's Prudhoe Bay and North Slope Villages.
Come experience all Fairbanks has to offer. No matter when you visit or if you choose to stay there is always something in Fairbanks any time of year. Winter is especially the key season when dog sledding and skiing become the outdoor activities of choice. But summer poses an entirely different sensation with lush parks, vivid streams and rivers and breathtaking wildlife to ignite all your senses.
Fairbanks Links:
Pioneer Park (fomerly Alaskaland)
There is lots to do (mostly inexpensively) at Pioneer Park, a theme park for locals as well as tourists. Our page tells more, just follow the link.

El Dorado Gold Mine
El Dorado Gold Mine offers an exciting, hands-on adventure for the whole family. Visitors learn about the history of mining in Alaska, while enjoying famous Alaska hospitality. And if you strike it rich, you get to keep the gold!

Far North Attractions
This page lists attractions farther north, such as visiting the Arctic Circle or Prudhoe Bay Oil Fields. Includes information on things to see while driving some of the major highways north of town.

Gold Dredge #8
Visitors get a lot for their money with a Dredge tour. The tour includes a 20-minute audiovisual presentation showing Fairbanks area gold mining operations; a guided tour of the dredge; a tour of dredge supply buildings full of machinery, equipment, and mining discoveries; a bunk house tour; a "Miners' Buffet" lunch and a gift shop visit, not to mention a chance to pan for your own gold.

Interior Hot Springs
Visitors have at least four hot springs to choose from, with more amenities available the closer to town. These are even more enjoyable in the dead of winter!

The Riverboat Discovery
Judging from the comments heard at the Ranch Motel, this is one of the most popular tourist attractions in Fairbanks, and perhaps even the state.

Tanana Chief
Fast becoming an institution, this as also an authentic sternwheeler, with shorter sightseeing cruises that can include full meals; breakfast, lunch or dinner.

University of Alaska Attractions
There is always a lot going on at the University of Alaska, most of it very inexpensive.
If you plan on extending your reach as far as things to do, consider a little farther out in the North Star Borough with these adventurous excursions.

Dalton Highway
This is a 414-mile gravel road that heads straight north to the Arctic Ocean. Alyeska built the 360-mile haul road section, now known as the Dalton Highway, from the Yukon River to Prudhoe Bay, to supply the oil facilities on the North Slope. The pipeline bridge across the 1,875 mile Yukon River is the only span across that river in Alaska.

This is not a road for the faint of heart, or those with a brand new vehicle. Most rental car companies will not allow their cars on the Dalton. Be sure to follow our link and read the warnings before traveling.
Dog Mushing
A typical northern pastime, you can still visit with mushers and their dogs even if you arrive in the summer, and you can even take a dog sled ride. Our page tells how and where.

Ice Art Alaska
Fairbanks, Alaska is the site of the World Ice Art Championships every March. Some ice sculptures are retained in cold storage year 'round for the enjoyment of visitors and locals alike. Follow the link above to learn more.

Iniakuk Lake Wilderness Lodge
Located 60 miles north of the Arctic Circle, this lodge provides a wilderness experience in a luxury setting. It costs a little more than some adventure outings, as it is only accessible by float plane, but if you really want to experience Alaska, you should find it well worth it.

Northern Lights, or Aurora Borealis
This beautiful phenomenon can only be seen on dark nights, but films, videos and still photos abound, and there are many multi-media presentations of the Aurora for your viewing pleasure, if you cannot visit when the real thing is present. Visit our page for more information.

Steese Highway
The Steese is the road that has it all! Whether you are looking for spectacular vistas, gold camps and history, tundra, the pipeline, the Yukon River, wildlife, or even hot springs, this is the highway to take.

Tours
See also Arctic Circle, and Fairbanks on a Shoestring for less expensive tours. There are numerous tour companies who will be willing to take you as far afield as you like.

Trans-Alaska Pipeline
This was one of the most difficult and remarkable engineering feats of modern time; one of the largest pipeline systems in the world. It doesn't cost a thing to see it (gas doesn't count if you are passing by anyway), and you can get lots of information and photo opportunities free, too.

Visit the Arctic Circle
There are a variety of ways to visit the Arctic Circle, ranging from plane to bus to car. Follow our link for more information to help you choose.