Watch on your mobile device >>
It goes without saying that before someone decides to finalize a sale on a house an inspection is an important part of the equation. But did you know that if you were to have an inspection performed on your own property prior to listing it, you would reap several time and money-saving benefits? That's right – for homeowners who have decided to invest a few hundred dollars in advance of selling, there are several avenues through which they end up saving. In this article, we shed light on the reasons why a few hundred dollars now can go a very long way later, most likely leading to a successful sale.
Advance Notice of Safety, Structural and Sanitary Issues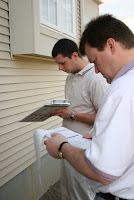 ...