The Walden Madden Real Estate Blog
*Note you don't have to be 50% disabled to waive the funding fee. See below for a list of all exempt from paying funding fee.
Watch on your mobile device >>
What a great honor to be able to return the favor that so many service men and women give us every day as they continue to put their lives on the line for our safety. Whether active in duty, someone that has experienced disability as a result of military service or any veterans who have been honorably discharged – there are homeownership benefits out there for you!
NO DOWN PAYMENT!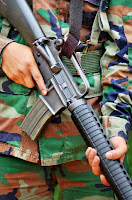 This used to be something that we would see a lot in television and billboard...